DETAILS
SPY-110A-8-PRO Mobile Phone Jammer The Latest Handheld High Power 4G
Interference band:
1: WIFI 2.4G 2400-2500MHZ
2: GPSL1 1570-1580MHZ
3: CDMA&GSM 850-960MHZ
4: LOJACK 165-175MHZ
5: 4GWIMAX 2496-2690MHZ
6: DCS/PCS 1805-1990MHZ
7: US 4G LTE(Europe) 700-803MHZ(790-850)
8: 3G 2110-2170MHZ

Mobile Signal Jammer With Plastic Shell
Handheld design with ABS plastic shell, Small, Palm-size;
Easy to carry, Pocket-size, Hang or wear on the arm or belt(for police);
High output power, Can shield all common phone signal around radius 5-20m;
Stable performance, Wind hole on two sides and inside coolers make a constant cooling working, The temperature will be less than 50 after continues work 1.5 hours;
Power supply using big capacity lithium battery: :4700mA/h, Rechargeable with AC charge and Vehicle DC12V charge, full time about 4Hours,Working time:90 minutes;
Each band can work separately or simultaneously.
Personalized custom: For different area or devices to customize different types of frequency signal, include Wi-Fi 5.8Ghz signal.
APPLICATION:This High-power handheld (2G/3G/4G full-band)mobile signal jammer with Wi-Fi/ GPS/
LOJACK signal, easy to carry, flexible to use, and built-in large capacity battery, can be used in the Public Security, Police, The Bomb Squad, S.W.A.T, Military security forces ,
Anti-terrorist units, Anti-drug units, Border control units, Checkpoints, Personal use, etc.
OEM customized frequency service:
Jammer Size:
"Device size not include antennas
Package Size: 245x235x70mm Net Weight: 0.75kg
Gross Weight: .1.5kg"
"Total output Power: 5.6 watt
Built-in Battery: 4700mA/h,Working Time:90minutes
Power supply: AC Charge (AC110-220V to DC12V) & Car Charge (DC12V)
Shielding Radius:(1-20) meters@-75dBm still depends on the strength signal in given area. "
1. Please charging 10 hours before fist usage, In order to extending battery life.
2. Make sure all antennas fixed correctly before the power supply switch turn on .
3. When power on, Keep dry and draughty, keep away from computer, notebook PC, television, audio
and AM/FM radio to prevent interferences.

4. The normal operational temperature is about 50 ° C. If the temperature is higher than the above, turn off the power immediately and contact local agent for help. the operating temperature:-10℃ to +45℃
5. Its functional coverage will depends on the location and strength of the ambient mobile phone base stations.
6. The antenna should be Vertical to the ground to get more efficient shielding effect.
7. The Ni-MH rechargeable battery has estimated 500 times recharge cycles. Please contact the local agent to replace battery if it is not rechargeable.
8.Any sealed mark on the machine tore is invalid.
Portable:
Easy to carry, Pocket-size, Hang or wear on the arm or belt with Nylon case;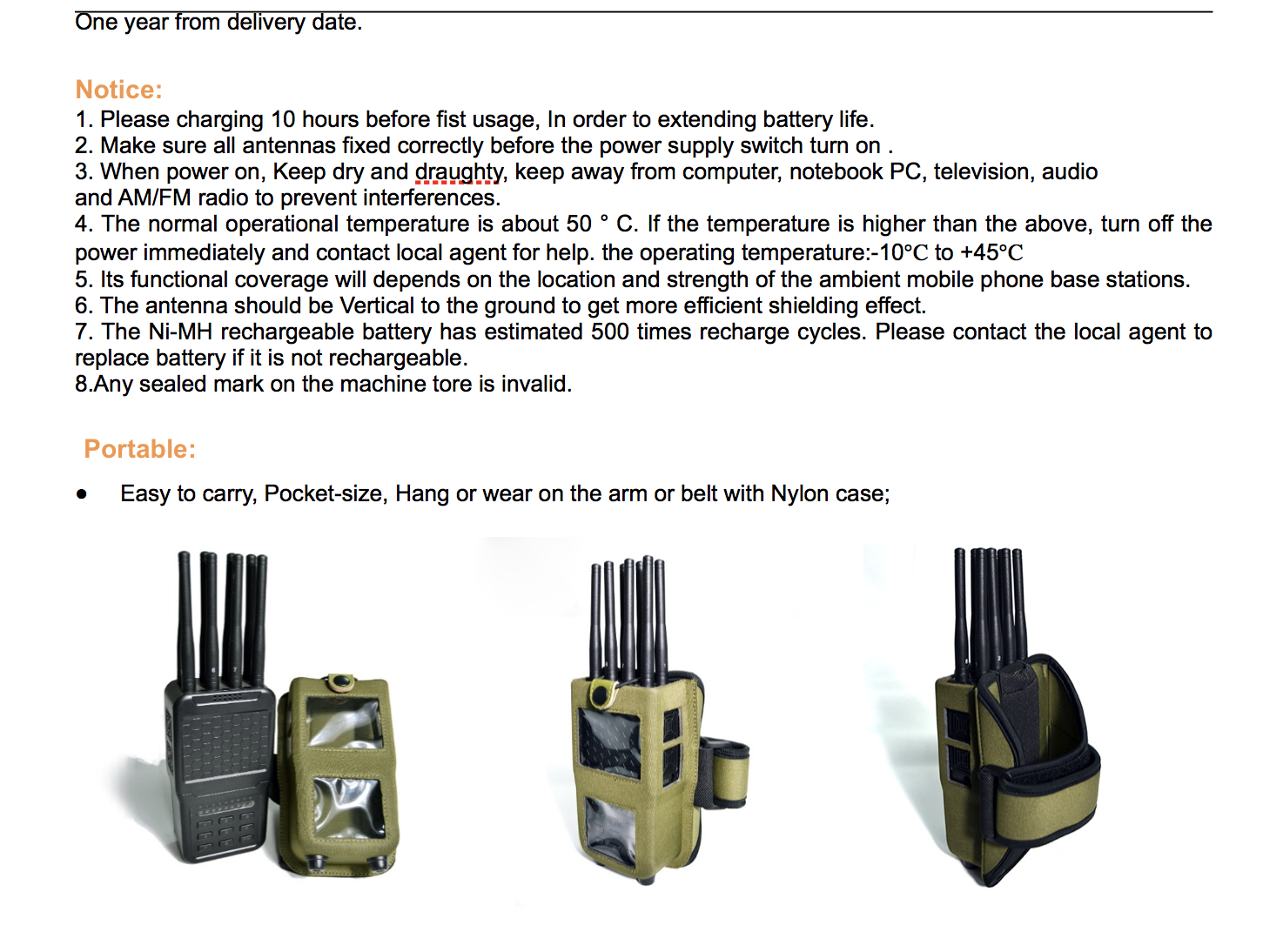 Foreign Language Keywords
GPS, Wifi, 4G, LoJack / XM, UHF / VHF, Audio Jammer, RF Jammer, Phone Jammer, Spy Remote Door Opener, Aircraft Jammer, Drone Jammer, GPS Tracker, Eavesdropper, Candid Tracker , Signal Detector, Car Remote Clone, Remote Scanner and Unlocker
التجسس الإلكترونيات ، مفتاح السيارة ، جهاز فك تشفير السيارة ، جهاز تشويش السيارة ، جهاز التحكم عن بعد المكرر ، الاستنساخ عن بعد ، جهاز تشويش الإشارة ، جهاز تشويش إشارة الهاتف المحمول ، جهاز تشويش إشارة GPS ، جهاز تشويش إشارة راديو محمول ، جهاز تشويش UAV ، جهاز تحديد الموقع ، محدد موقع ، Nano Global PositionerSpy Electronics, Llave del coche, Decodificador de coche, Car Jammer, Replicador de control remoto, Clonación remota, Jammer de señal, Jammer de señal de teléfono móvil, Jammer de señal GPS, Jammer de señal de radio portátil, Jammer de señal de UAV, Rastreador de posición, Localizador, Posicionador global NanoШпионская электроника, автомобильный ключ, автомобильный декодер, автомобильный джойстик, репликатор дистанционного управления, дистанционное клонирование, сигнализатор, сигнальный помех для мобильного телефона, глушитель сигнала GPS, ручное сигнальное устройство Jammer, сигнализатор сигналов БПЛА, позиционный трекер, локатор, нанодиапазонный позиционер
Spy Elektroniko, Car Key, Car Decoder, Car Jammer, Remote Control Replicator, Remote Cloning, Signal Jammer, Mobile Phone Signal Jammer, GPS Signal Jammer, Handheld Radio Signal Jammer, UAV Signal Jammer, Position Tracker, Locator, Nano Global Positioner
Eletrônica Espiã, Chave do Carro, Decodificador de Carro, Jammer de Carro, Replicador de Controle Remoto, Clonagem Remota, Jammer de Sinal, Jammer de Sinal de Telefone Móvel, Jammer de Sinal GPS, Jammer de Sinal de Rádio Portátil, Jammer de Sinal UAV, Rastreador de Posição, Localizador, Nano Global Positioner
Spionageelektronik, Autoschlüssel, Autodecoder, Autojammer, Fernsteuerungsreplikator, Fernklonen, Signalstörsender, Handy Signalstörsender, GPS Signalstörsender, Handfunksignalstörsender, UAV Signalstörsender, Positionstracker, Locator, Nano Global Positioner
Electronics exploratorem, Car Key, Car Decoder, Car Jammer, Longinquus Imperium Replicator: Longinquus Cloning, signum Jammer, mobile phone signum Jammer, GPS signum Jammer, Handheld Radio signum Jammer, UAV signum Jammer, Position Tracker, Locator: Nano Global Positioner