DETAILS
Hand-held mobile phone + satellite signal + WIFI truncator
※Product Introduction ※
SPY-121A-5 handheld mobile phone & satellite signal interceptor is based on the current flooding candid (using wireless network, Bluetooth, wireless transmission, etc.) and tracking (car positioning, mobile phone positioning, google network positioning, etc.) to some confidential units In case of inconvenience and personal inconvenience, it is specially designed and produced. For all current GPS satellite positioning systems and the characteristics of wireless camera shooting, the GPS satellite signal and the wireless camera transmission signal are effectively clipped within a radius of 5-15 meters using this product. , thereby forming an effective protection zone, so that your whereabouts are not worried about being tracked, candid photos.
※Features※
Effectively prevent GPS satellite positioning and protect your privacy and confidential information
At the same time, it effectively shields mobile phone signals such as CDMA/GSM/DCS/PHS/3G
Can shield 2.4GWIFI and wireless candid transmission signal
Small size, built-in cooling fan, single antenna control switch, large power, stable performance, direct onboard power supply, light weight, large coverage, easy to carry
Matters needing attention: Before the machine is switched on, please install the antenna according to the corresponding unit, pay attention to the first use of the charge 12 hours to activate the battery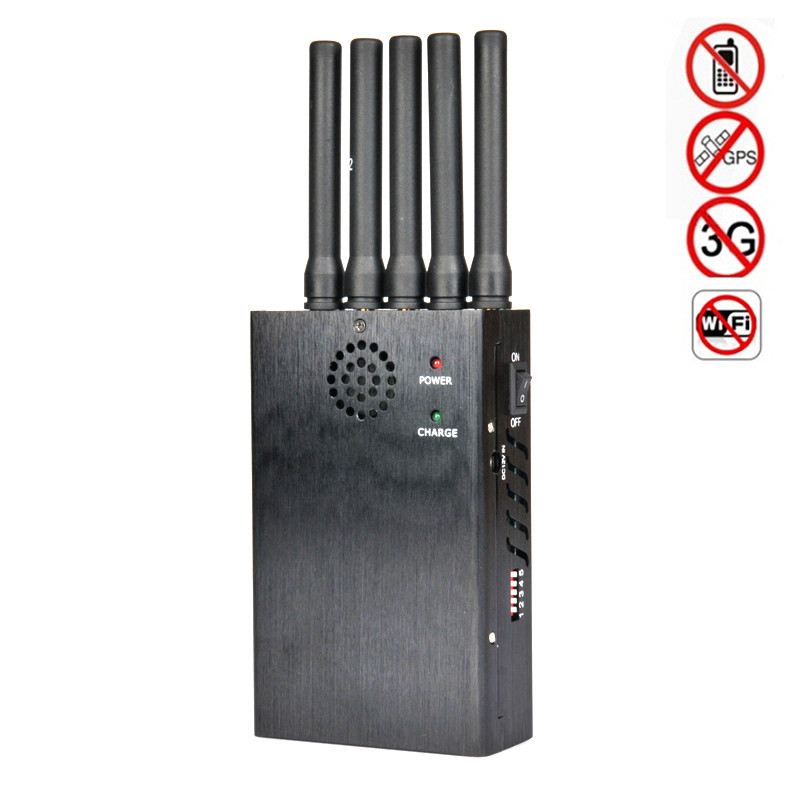 ATTENTION
Before turning on the device,you must install the antennas accordlng to the mark indication on the main unit
(1) GSM : 925 ---- 960MHz
(2) DCS/4G: 1805 -- 1880MHz
(3) 3G: 2110 --2,170 MHz
(4) GPS/GLONASS:1570-1610 mhz
(5) WIFI 2400-2485 MHZ
GSM,DCS,3G,WIFI2.4G,GPS, GLONASS You can select 6 of above frequency bands you need in a jammer
ODM and OEM orders are welcome
Total output power: 2.5W ,Small size design,each bands can adjust to ON or OFF power
Jamming range: up to 15m, the jamming radius still depends on the strength signal in given area
External Omni-directional antennas all the TX frequency covered down link only
Power supply: 50 to 60Hz, 100 to 240V AC
With AC adapter (AC100-240V-DC12V),4000mA/H battery
Dimension: 126x76x35mm and not include antennas
Inner box dimension:275x150x80mm
Full set weight: 0.65kg
Advantages:
Multiple bands, Can adjust ON or turn off any single band without influencing the other bands operation
High output power
Cooling fan inside , Could be used in car directly,With car charger and AC charger
With Built-in Battery:4000mA/h,Charge full time about 4Hours,Working time:1-2Hours.
Application Area:
it can be applied at meeting rooms, conference rooms, trains, bus and more
For some locations of special purpose such as hospitals, gas stations and more, Please do field test first to make sure no interference happened to the normal operation of their equipment and instrument
Warranty: One year from delivery date.
All trademarks shown here are for reference purposes only. They are the property of their respective owners, and we are not authorized to sell items bearing such trademarks.
Foreign Language Keywords
GPS, Wifi, 4G, LoJack / XM, UHF / VHF, Audio Jammer, RF Jammer, Phone Jammer, Spy Remote Door Opener, Aircraft Jammer, Drone Jammer, GPS Tracker, Eavesdropper, Candid Tracker , Signal Detector, Car Remote Clone, Remote Scanner and Unlocker
التجسس الإلكترونيات ، مفتاح السيارة ، جهاز فك تشفير السيارة ، جهاز تشويش السيارة ، جهاز التحكم عن بعد المكرر ، الاستنساخ عن بعد ، جهاز تشويش الإشارة ، جهاز تشويش إشارة الهاتف المحمول ، جهاز تشويش إشارة GPS ، جهاز تشويش إشارة راديو محمول ، جهاز تشويش UAV ، جهاز تحديد الموقع ، محدد موقع ، Nano Global PositionerSpy Electronics, Llave del coche, Decodificador de coche, Car Jammer, Replicador de control remoto, Clonación remota, Jammer de señal, Jammer de señal de teléfono móvil, Jammer de señal GPS, Jammer de señal de radio portátil, Jammer de señal de UAV, Rastreador de posición, Localizador, Posicionador global NanoШпионская электроника, автомобильный ключ, автомобильный декодер, автомобильный джойстик, репликатор дистанционного управления, дистанционное клонирование, сигнализатор, сигнальный помех для мобильного телефона, глушитель сигнала GPS, ручное сигнальное устройство Jammer, сигнализатор сигналов БПЛА, позиционный трекер, локатор, нанодиапазонный позиционер
Spy Elektroniko, Car Key, Car Decoder, Car Jammer, Remote Control Replicator, Remote Cloning, Signal Jammer, Mobile Phone Signal Jammer, GPS Signal Jammer, Handheld Radio Signal Jammer, UAV Signal Jammer, Position Tracker, Locator, Nano Global Positioner
Eletrônica Espiã, Chave do Carro, Decodificador de Carro, Jammer de Carro, Replicador de Controle Remoto, Clonagem Remota, Jammer de Sinal, Jammer de Sinal de Telefone Móvel, Jammer de Sinal GPS, Jammer de Sinal de Rádio Portátil, Jammer de Sinal UAV, Rastreador de Posição, Localizador, Nano Global Positioner
Spionageelektronik, Autoschlüssel, Autodecoder, Autojammer, Fernsteuerungsreplikator, Fernklonen, Signalstörsender, Handy Signalstörsender, GPS Signalstörsender, Handfunksignalstörsender, UAV Signalstörsender, Positionstracker, Locator, Nano Global Positioner
Electronics exploratorem, Car Key, Car Decoder, Car Jammer, Longinquus Imperium Replicator: Longinquus Cloning, signum Jammer, mobile phone signum Jammer, GPS signum Jammer, Handheld Radio signum Jammer, UAV signum Jammer, Position Tracker, Locator: Nano Global Positioner