DETAILS
GPS Partitioner GPS Suppressor GPS Cutoff GPS Isolator GPS Jammer GPS positioning signal masker

SPY-110C instructions


Thank you for choosing our hand-held/portable GPS positioning signal masker. This product is developed by our company's scientific research personnel using modern high-tech technology. Through in-depth analysis of communication mechanisms and comprehensive comparison of electromagnetic emission suppression methods, we have developed completely independent intellectual property rights. Information security products, it can form an electromagnetic protection field around you.
use
GPS positioning of mobile vehicles, personal tracking GPS positioning, mobile politicians and business leaders
Personal life or business special needs
Features
This product is all using patch and high-density integrated circuit resistance, with advanced performance, small size, easy to carry, easy to operate, with an electric two charge, and stable operation features. Full charge can work for about 2 hours, with Car charger and direct charge, used to interfere with the positioning and tracking of GPS satellite signals to protect your whereabouts and confidential information,
The whole production process strictly follows ISO900 quality system, and passes CE certification. The work is stable and reliable. It is an ideal product for strengthening information security.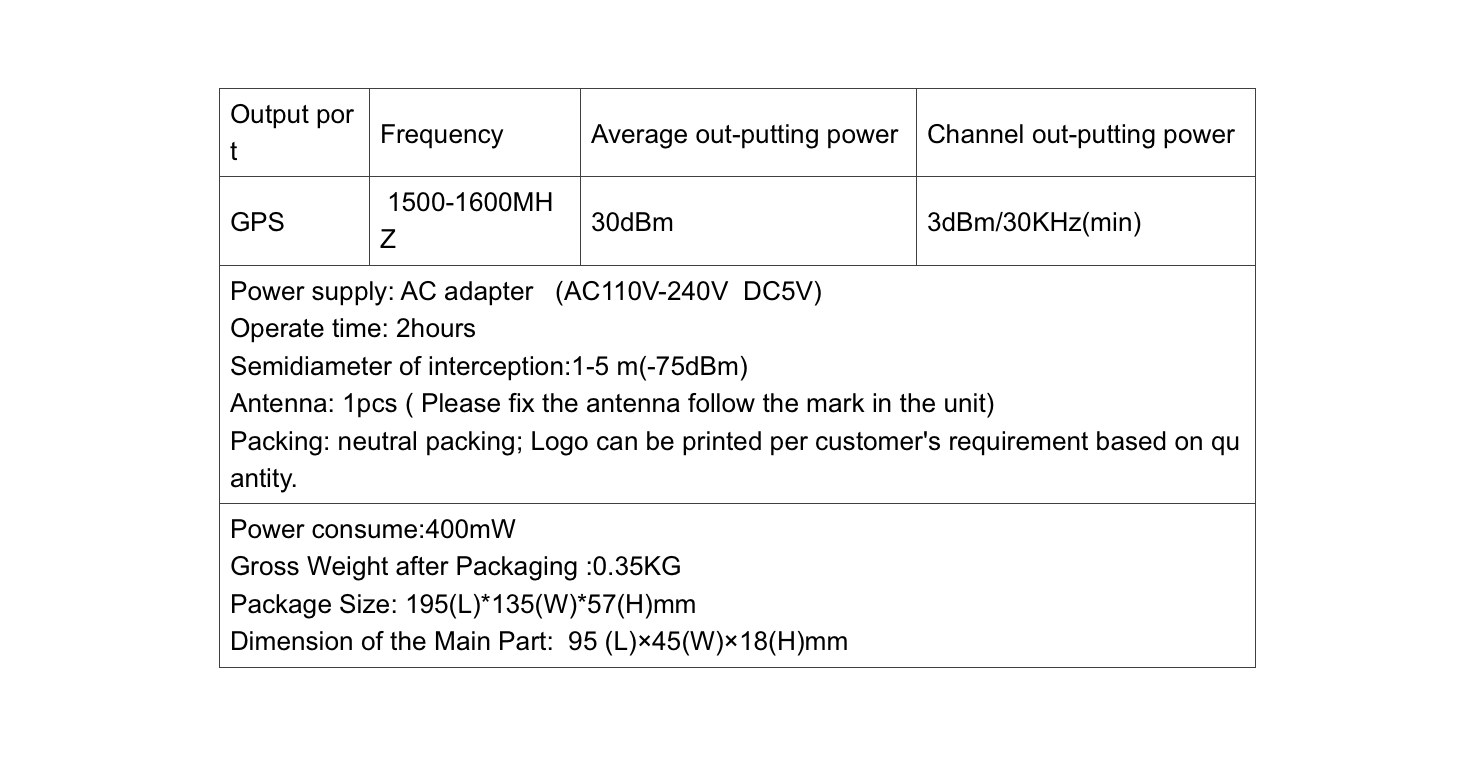 Foreign Language Keywords
Jammer, GPS, Wifi, 4G, LoJack / XM, UHF / VHF, Audio Jammer, RF Jammer, Phone Jammer, Spy Remote Door Opener, Aircraft Drone Jammer, Rastreador GPS, Candid Camera , detectores de señal, clones remotos de coche, detector remoto universal de coche, desbloqueo de escaneo remoto
التشويش ، نظام تحديد المواقع ، واي فاي ، 4G ، LoJack / XM ، UHF / VHF ، تشويش الصوت ، RF جهاز تشويش ، جهاز تشويش الهاتف ، جاسوس فتحت الباب البعيد ، الطائرات بدون طيار جهاز تشويش ، GPS المقتفي ، كاميرا خفية ، وكشف الإشارات ، واستنساخ السيارة عن بعد ، والكشف عن سيارة عالمية عن بعد ، وفتح عن بعد الفحص
Jammer, GPS, Wifi, 4G, LoJack / XM, UHF / VHF, Audio Jammer, RF Jammer, Phone Jammer, Spy Remote Door Opener, Aircraft Drone Jammer, GPS Tracker, Candid Camera , Signal Detector, Car Remote Control Clone, Car Universal Remote Detector, Remote Control Scan and Unlock
Jammer, GPS, Wifi, 4G, LoJack / XM, UHF / VHF, шумоподавитель, шумоподавитель, глушитель, шпионский пульт ДУ, воздушный драммер, GPS-трекер, , детекторы сигналов, дистанционные клоны автомобилей, универсальный дистанционный детектор автомобилей, разблокировка удаленного сканирования
Jammer, GPS, WLAN, 4G, LoJack / XM, UHF / VHF, Audio Jammer, RF Jammer, Telefon Jammer, Spy Remote Türöffner, Aircraft Drone Jammer, GPS Tracker, Candid Kamera , Signaldetektoren, entfernte Klone des Autos, Universaldetektor des Autos, entfernter Scan entsperren
জ্যামার, জিপিএস, ওয়াইফাই, 4 জি, লোজেকেট / এক্সএম, ইউএইচএফ / ভিএইচএফ, অডিও জ্যামার, আরএফ জ্যামার, ফোন জ্যামার, স্পাই রিমোট ডোর ওপেনার, বিমান ড্রোন জ্যামার, জিপিএস ট্র্যাকার, মনি ক্যামেরা , সংকেত ডিটেক্টর, গাড়ী দূরবর্তী ক্লোন, গাড়ি সার্বজনীন রিমোট ডিটেক্টর, দূরবর্তী স্ক্যান আনলক
Jammers, GPS, Wifi, 4G, LoJack / XIII, UHF / VHF, audio jammers, radio jammers, phone jammers, spyware remote control ostium openers, fucus jammers elit, GPS elit, candide cimex , signum detector, remota potestate currus clones, eget universae remotis detectors, remotis reserans scan