DETAILS


SPY-121A
Mobile phone signal jammer, jammer, isolator, suppressor, vacuum isolator, conference information security
High Power Handheld Signal Jammer (Global)Mobile Phone with WIFI Signal Jammer User Manual Product application Cars, conference rooms, oil refineries, gas stations, theaters, temples, courts, military and police units, schools, libraries, prisons, etc. All prohibit the use of mobile WIFI signal sites


Features:


Single-band control switch, such as WIFI does not interfere, can be opened and closed separately, built-in cooling fan, stable performance, with a leather holster, easy to carry,
Parameters Table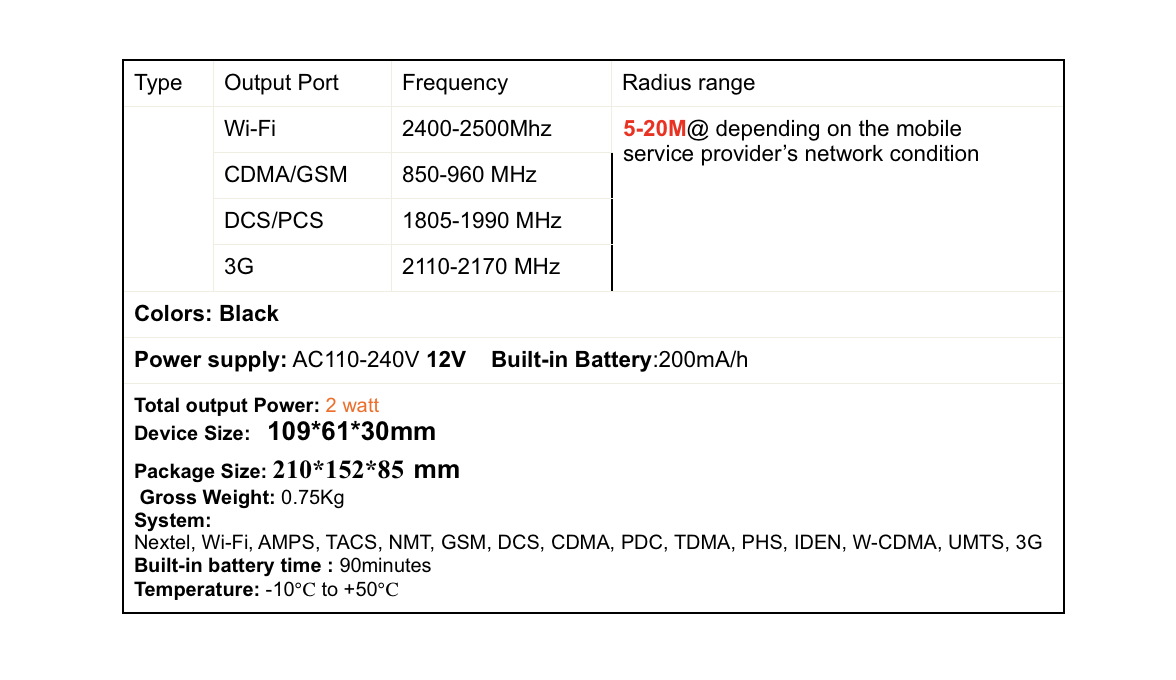 Precautions:
1. Before starting up, please make sure that all four transmitting antennas are twisted and tightened to the corresponding position interface on the host computer.
2. Charging instructions: In order to delay the battery life, please use the battery memory for the first time and then charge the battery. Each charge should be no less than 12 hours and no more than 24 hours.
3. Do not store or use the machine near fire, temperature, or high temperature environment to avoid damage to the machine.
4, please use the picture 2 antenna host erected about 1.5 meters from the ground to place the best
























Foreign Language Keywords
GPS, Wifi, 4G, LoJack / XM, UHF / VHF, Audio Jammer, RF Jammer, Phone Jammer, Spy Remote Door Opener, Aircraft Jammer, Drone Jammer, GPS Tracker, Eavesdropper, Candid Tracker , Signal Detector, Car Remote Clone, Remote Scanner and Unlocker
التجسس الإلكترونيات ، مفتاح السيارة ، جهاز فك تشفير السيارة ، جهاز تشويش السيارة ، جهاز التحكم عن بعد المكرر ، الاستنساخ عن بعد ، جهاز تشويش الإشارة ، جهاز تشويش إشارة الهاتف المحمول ، جهاز تشويش إشارة GPS ، جهاز تشويش إشارة راديو محمول ، جهاز تشويش UAV ، جهاز تحديد الموقع ، محدد موقع ، Nano Global PositionerSpy Electronics, Llave del coche, Decodificador de coche, Car Jammer, Replicador de control remoto, Clonación remota, Jammer de señal, Jammer de señal de teléfono móvil, Jammer de señal GPS, Jammer de señal de radio portátil, Jammer de señal de UAV, Rastreador de posición, Localizador, Posicionador global NanoШпионская электроника, автомобильный ключ, автомобильный декодер, автомобильный джойстик, репликатор дистанционного управления, дистанционное клонирование, сигнализатор, сигнальный помех для мобильного телефона, глушитель сигнала GPS, ручное сигнальное устройство Jammer, сигнализатор сигналов БПЛА, позиционный трекер, локатор, нанодиапазонный позиционер
Spy Elektroniko, Car Key, Car Decoder, Car Jammer, Remote Control Replicator, Remote Cloning, Signal Jammer, Mobile Phone Signal Jammer, GPS Signal Jammer, Handheld Radio Signal Jammer, UAV Signal Jammer, Position Tracker, Locator, Nano Global Positioner
Eletrônica Espiã, Chave do Carro, Decodificador de Carro, Jammer de Carro, Replicador de Controle Remoto, Clonagem Remota, Jammer de Sinal, Jammer de Sinal de Telefone Móvel, Jammer de Sinal GPS, Jammer de Sinal de Rádio Portátil, Jammer de Sinal UAV, Rastreador de Posição, Localizador, Nano Global Positioner
Spionageelektronik, Autoschlüssel, Autodecoder, Autojammer, Fernsteuerungsreplikator, Fernklonen, Signalstörsender, Handy Signalstörsender, GPS Signalstörsender, Handfunksignalstörsender, UAV Signalstörsender, Positionstracker, Locator, Nano Global Positioner
Electronics exploratorem, Car Key, Car Decoder, Car Jammer, Longinquus Imperium Replicator: Longinquus Cloning, signum Jammer, mobile phone signum Jammer, GPS signum Jammer, Handheld Radio signum Jammer, UAV signum Jammer, Position Tracker, Locator: Nano Global Positioner